Last year I made some changes to our routine that really helped make mornings manageable. I was sick of feeling like we were flying by the seat of our pants every day so I took a look at the things that were causing stress and drama and found some solutions. Last year was the first year I felt like I was the boss of the morning instead of the other way around! Today I'm sharing my Make Mornings Manageable Idea Board from Wayfair to hopefully inspire you to get your mornings under control, too. If you have additional tips, please share them in the comments!
PROBLEM: LUNCH DRAMA
Everyone had something to say about what was being packed in their lunch and it was never nice. Packing lunches always ended up turning into a rushed scramble that left everyone on edge.
Solution: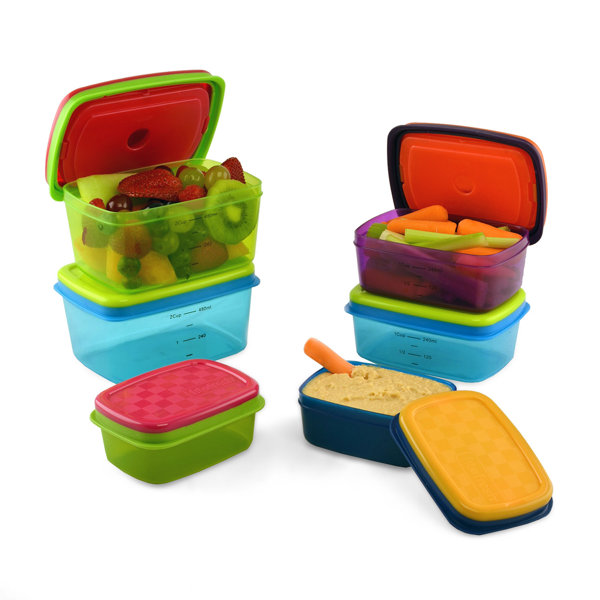 I purchased several sets of plastic containers like this specifically for lunches. There are TONS of them so even if the dishwasher doesn't get run the night before we still have containers for lunch. I also have the kids pack their own lunches because I physically could not listen to Isca tell me she threw her whole sandwich away because Noa put a quarter cup of mayonnaise on her bread again. Gag. They do this THE NIGHT BEFORE so they can take 700 hours to slice their own cheese and be sure the ice packs get in the freezer.
PROBLEM: OUTFIT DRAMA
Similar to LUNCH DRAMA – it happens when your child has a dresser full of folded "nothing to wear" and they loudly let you know about it.
Solution:
The best thing I ever purchased for one of my kids is a hanging 5-cubby organizer. There is a cubby for every school day and every weekend each cubby is filled with a complete outfit – undies, socks, shorts/pants/skirt, shirt, sweatshirt. I'm telly you it is a beautiful, glorious thing.
PROBLEM: SLOW POKE CHILDREN
My kids are the s l o w e s t humans on the planet when it comes to getting ready in the morning. The get distracted by EVERYTHING. They take 45 minutes to finish a bowl of cereal, for crying out loud.
Solution #1:
I made a new rule – no breakfast until your bed is made, clothes are on, hair is done, prayers are said, and pajamas are put away. Hunger is a motivator that even crazy mom eyes + twitching upper lip can't touch. Maybe it's because they're now wide awake when eating breakfast but they no longer take almost an hour to eat.
Solution #2:
Because they are part tortoise and because one of my children settles into a 30+ minutes bathroom break most mornings I also get them up pretty early: 1 1/2 – 2 hours before they leave the house. When I hear moms who get their kids up 30 minutes before they hit the road I'm like, "whaaaaaaat?" They must have given birth to kids who are part unicorn.
PROBLEM: GENERAL MAYHEM + CONFUSION
What day is it? Where is my library book? I can't wear those shoes because I have PE today! Mom, did you sign my folder? You know the drill. My blood pressure is rising just thinking about this starting up again soon.
Solution:
Get yourself some kind of homework station or command center. You'll want a big ol' dry erase calendar, a cork board, and some drawers and folders to catch all the papers that come home every day. Like, 8 trees will be ripped from their rain forest home to provide the papers that just one of your kids will bring home per school year. 90% of them will be crap you can recycle but the other 10% will have information you will feel like you should keep…somewhere.
I tape each child's daily schedule to the outside of a vinyl zipper folder then I keep all the "important" papers with passwords and whatever inside that folder. The folders go on a shelf in our homework station so we don't accidentally wear a dress on PE day or whatever. I also have a few plastic drawer units in our station to keep pencils, pens, scissors, glue, etc. in one place for homework and projects. A big basket to the side of it holds backpacks and lunchboxes. It was a huge part of keeping us organized last school year and I know it will help again this year!
For more inspiration and ideas to make morning manageable in your home check out my Make Mornings Manageable Idea Board – each picture is clickable:
I hope you were able to get some ideas to get your family a little more organized in the mornings to make life easier! Happy back to school!